:: Impuls wear plate ::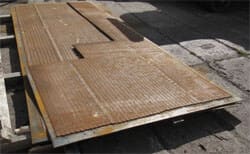 We manufacture wear parts overlay welded wear plates according to your wishes up to a maximum sheet size of 2 x 6 m. We offer blanks , mechanical processing ( bending, rolling , edging ) as well as complete assemblies. The manufactured parts can be finished with a variety of mounting options , eg. be provided with welding rings. For special sizes or a custom quote please ask us.
There are wear layers of 3 to 12 mm with a base plate of 5 mm thickness available. Base and the build-up material is adapted here to the customer's requirements and operating conditions. The aim is to increase the wear resistance by applying a "plating". Due to the high hardness of the coating material (> 60 HRC), a very high wear protection is guaranteed even under extreme conditions. The most common sizes are:
Impuls wear plate 5+3
Impuls wear plate 6+4
Impuls wear plate 8+5
Impuls wear plate 10+5+5
... etc.
The figures in this case denote the thickness of the base plate and the coating thickness ( in mm). With more than 2 details each successive value denotes a further layer. The total layer thickness is thus obtained from the sum of the individual layers and the total sheet thickness from the amount of the total sum.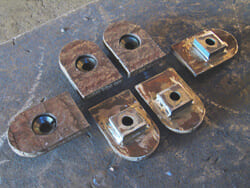 The production of different blanks and components can also realized from Impulse - wear plate material. At our location, we have all necessary technologies available, such as a plasma cutting machine.
If you need help with choosing the right quality, or looking for an individual solution made of Impulse - wear plate, simply contact us. We also offer the assembly or the replacement of wear parts on site.