:: Forming ( Bending & edging) ::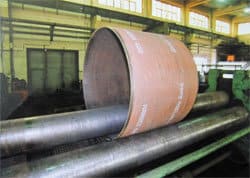 We have the necessary equipment and technology folding and rolling. Depending on the geometry of the parts, very precise folds of thinner sheets or bends of up to 30mm thick steel plates (pressing force up to 600t) can be realized.
Simply ask us about the possibilities of forming your individual parts. Surely we can offer you the right solution.