:: Welding and joining ::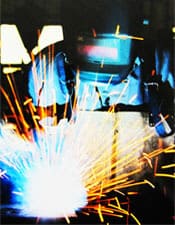 Our welding and joining technology is based on customer needs and the different product and material requirements.
We use different materials and processes for joining technology . Mainly the gas metal arc welding (GMA) is used. In addition, we also offer the arc stud welding and hardfacing.
Our employees are qualified and regularly trained according to the applicable provision.
If you have any special requests or requirements please ask us.